---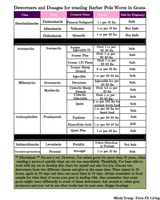 Are you wondering how much dewormer to give your goats? This has been me so many times that I worked with my vet to develop a printable dewormer chart. This will help you know what to dose and how much to give.
Excellent
Clear, concise, specific instructions regarding medications, dosages and route of delivery. Many, many thanks!
(Wish it printed the chart on a single page...mine printed part on two pages. Pass the tape, please, and many thanks!!)
This chart was a life saver, literally!
Excellent Reference!
If you own Goats, you absolutely NEED this!