---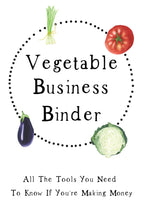 Are you looking for help in keeping track of the progress of your vegetable business? I have to be honest with you. In the 5 years I've had my vegetable garden business, I've only been keeping track of our profits in our business for 2 years! Yes - For three years, we had no idea if our business was making money. Once we started keeping good track of timing and financials, we found that we are making 5 FIGURES per season! Knowing this has justified spending our time on this business. 
I've put together 42 pages of trackers, schedules and more that we use every day, week, month and year to track the progress of our business. It has taken hardly any time for my team and I to sit down and talk through goals, plans, inventory, and how we are spending our time. 
Since this has worked so well for us, I have made a PDF Printable bundle for you. It is worth gold to know where you are in your business and this will help you! Digital download only. Nothing will be shipped.